Then.....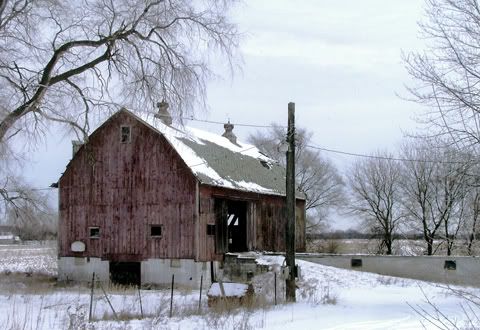 I'd driven past this barn many, many times over the years but one snowy morning I couldn't contain myself from pulling into the driveway to take a photograph. The road approach from the south curves and rises to the point of the driveway and there is no shoulder on which to pull the car for safety purposes.
The beauty of the moment made me forget that people might still be living in the brick ranch house. On second glance the windows were broken and the doors boarded up telling me that the residents had moved on.
I studied the photograph carefully, noting the basketball hoop, electric lines, ramp and other features. Many people don't realize that many rural farms didn't have electricity until some time in the 1960's when President Johnson made it a priority to electricfy the countryside.
This image was used as my Christmas card that year.
Here is now......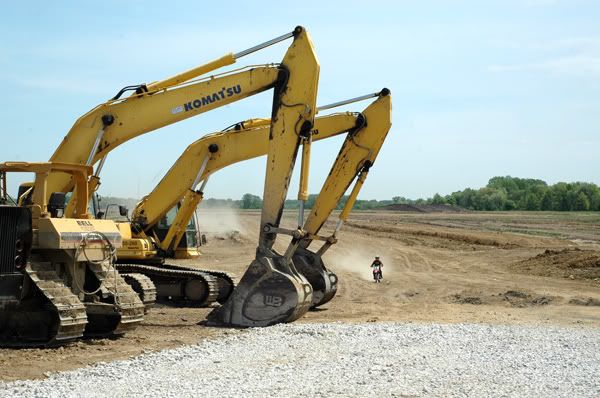 I'm standing in the same spot although it was a little difficult to get my bearings as the old oak tree I leaned against is now gone. The fact is that the barn had not been used for it's original purpose for many years. That way of life, at least in our area which skirts a huge metropolitan population, has passed by the way of the dinosaur. As far as my sister and I can figure things started changing for these family farms in the late 1960's, and perhaps the last time a dairy cow was milked in this barn was sometime in the '80's. Over 20 years had passed since purposeful activity filled the structure. The barn sat and waited, it's fate already decided and plotted on urban developers master plans. At that point it was just a matter of time and infrastructure until the barn was razed and signs went up proclaiming, "Townhouses from the high $200's, single family homes from the $400's."
We are witness to the final death knell of these buildings and a way of life. This is the moment in time that should be remembered and documented. Will people in the future wonder or care? Perhaps in 100 years it will be a curiousity that before the active adult community there was once a family farm complete with snow covered barn.