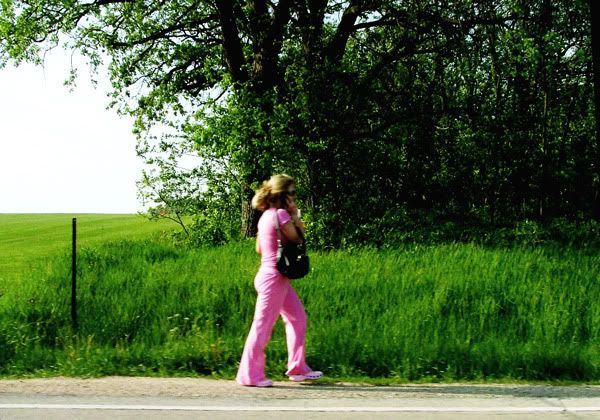 The woman's matching workout suit and shoes are definitely shocking pink, but the most shocking thing about the photo is that she's walking along a lonely, rural stretch of road carrying a large drink, and a large handbag with a cell phone glued to her ear.
First of all, cell coverage is not guaranteed on these roads regardless of the number of cell towers that have replaced windmills on the farms. She looks misplaced in this setting but would not cause a second thought at the nearby lifestyle mall.
This reminds me of the day an old friend called to say she'd been driving along a country road and saw this "crazy lady" standing at the edge of a field taking photos. She looked closer as she passed and said to herself, "Oh, it's just Suzie" as of knowing it was me explained away the craziness of the scene in her mind.
What it says about me is that unsual behavior for someone else is just the norm for me. (Parking car in a safe place, walking a quarter mile and standing downwind of the harvesting process just to get a photo would be considered crazy by local farmers).