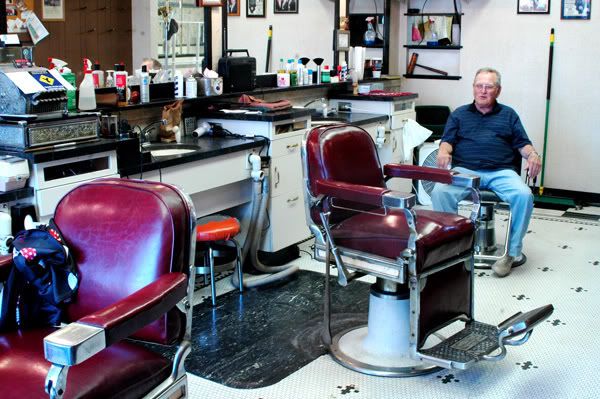 The downtown areas of the local towns have been challenged with the development of large big-box shopping areas along Randall Road. I can't say the downtown businesses are not struggling, but I've seen places in this country where downtown areas are ghost towns. That is not the case here. The strength of our downtowns lie in the fact that they provide goods and services that are unusual and a cut above the "sameness" offered by retail corporate America. They are privately owned, many of them are mom and pop businesses without employees.
It's a surprise to some people that old fashioned barber shops are alive and well in northern Illinois. They are! Each of the local towns has a least one, sometimes two. This is the City Barber Shop in downtown Geneva, Illinois. What a breath of fresh air to step inside this place - accompanied by a flood of memories!
It's Swedish Days in Geneva - one of the many summertime festivals. It was hot on the day I took this photo and I ducked inside City Barber to cool off.
Sitting in the chair is Richard Wise, who is only one of the barbers at this location. He was kind enough to chat with me between haircuts. Richard served our country in the Korean War and studied at a barber college in Chicago after being discharged. He graduated in 1956 and has been working his trade ever since.
This shop is wonderfully maintained with beautiful chairs and a vintage black and white tile floor. Did you notice the vintage cash register? Stop by and check out City Barber Shop if you're in the area.