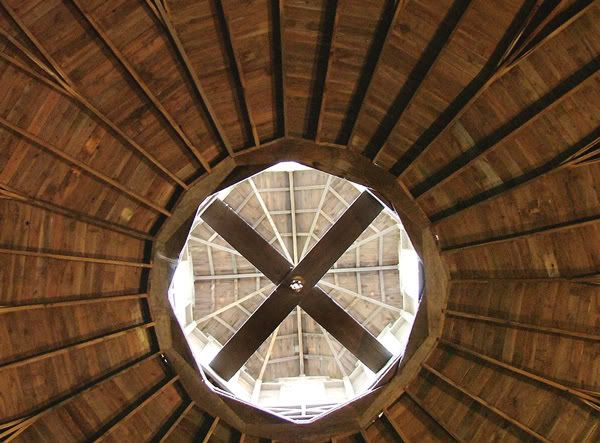 After tons of hay had been removed from the barn it was a bit more stabilized, but problems still remained. At some point in the barns life lightning had struck and destroyed the cupola. At that time it was replaced with a simple cap.
The barn is a balloon frame construction. The vertical wall members are braced with lumber in an X configuration and the complex roof truss system sits directly on the walls. This provides a barn with open interior space, there are no huge supporting beams inside the building. The roof trusses curve upwards and are tied together by a compression ring. In early 1999 it was apparent the compression ring might fail and in an emergency measure it was replaced. At this time a cupola fashioned after the original was installed. This work cost upwards of $100,000.
Ag Tech, a not for profit organization, was formed when Matsushita purchased the property. This organization was established to raise funds to stabilize and rehabilitate the barn for public use. It was hoped that someday the barn would become an educational center.
At one one point they studied the feasibility of moving the barn to a more rural location but the cost (upwards of one million dollars) was prohibitive.
This photo was taken from the second floor of the barn (the lower level was for milking cows), looking upward at the compression ring and the beautiful interior of the cupola.
On each visit to the barn I marveled at the engineering and the beauty.