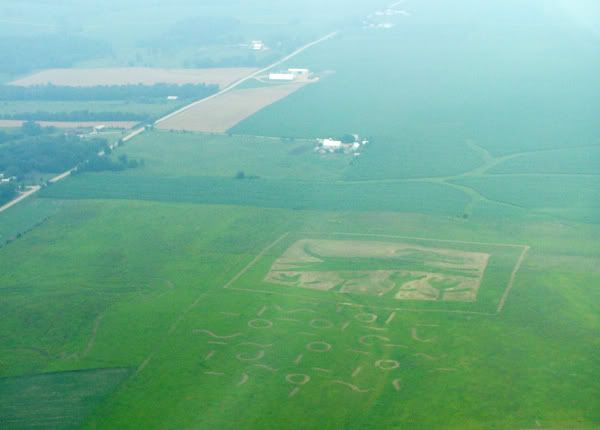 For those of you who weren't along on last years adventure here's an explanation of the event.
"The Fields Project
is a unique art venue which brings together art and agriculture. Artists from around the world are invited to apply to be a part of the project. Those who are chosen live with host families on local farms and spent a week creating art with agriculture and nature as their inspiration.
In addition, three artists and one high school art class are chosen to design field art sculptures. Their designs are each carved into a 15 acre farm field. That means the artwork can only be viewed from the air. On Saturday and Sunday the tiny airport west of town offers plane rides to view the art, and an open air art show is held in town. To give you some perspective, those white dots above the fields are farms with huge barns and outbuildings.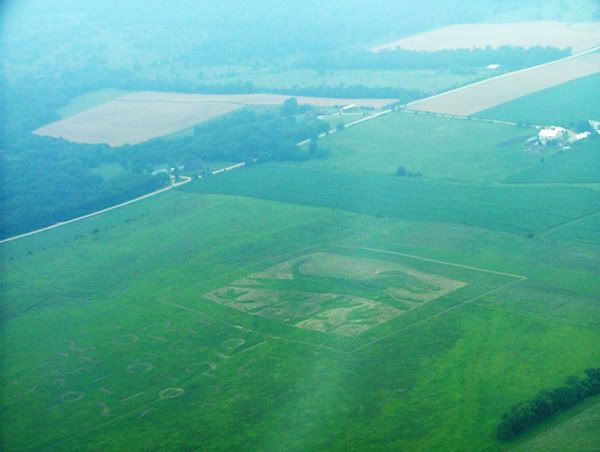 The tradition of combining art and agriculture was born in this area when
Lorado Taft,
in 1889, established the Eagle's Nest Art Colony on a cliff overlooking the Rock River. Taft's monumental statue of Chief Blackhawk still looks west from the cliff.
This year several of the designs were barely visible due to the fact that weather delayed the mowing and the vegetation didn't have a chance to turn brown, which provides the contrast. A design of this type contains problems that the artist must deal with.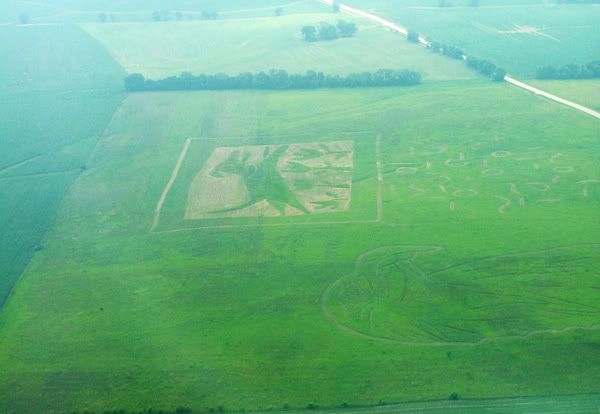 Anne Leuck Feldhaus
designed the running dog, which is in my opinion one of the strongest images I've seen. Her strong graphic style translates well to an open field!