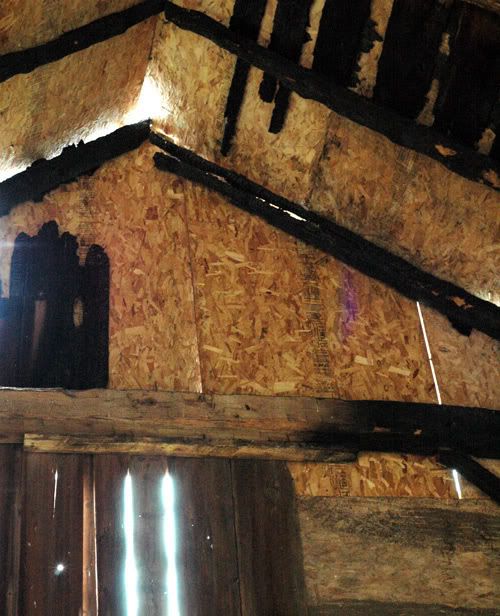 Longtime readers have visited Garfield Farm Inn and Museum through my photos many, many times. This photograph shows the damage caused by a lightning strike in August 2005. A passerby witnessed the strike and fire and quickly drove to the property to alert Thomas Hillier, asst. farm manager.
Water hoses were employed in an attempt to douse the flames until the fire department could arrive. As you can see there was considerable damage to the south peak of the barn.
Keep in mind that this is a small operation. There are three full-time staff members and an army of volunteers dedicated to saving this example of mid-nineteenth century example of an inn and farming operation. How do you get the word out when you're local preservationists passionate about your work? The internet does make it a little easier, but still, without the massive budgets of the "big guys" you are limited in scope.
Jerry Johnson, Garfield Farm Museum's Director is someone you should know. It is the vision and committment of Johnson, board members and volunteers for more than a quarter of a century that have preserved this property from the onslaught of development.
Author Barry Lopez has several themes running through his literary works. One is a storied relationship with a place and also living in ethical unity with a place. Johnson has attained both of these in his work developing his vision of what the property could be.
These people deserve support in their efforts. If you would like to read more visit the Garfield website here:
Garfield Farm Inn and Museum
Donations for the 1842 barn restoration can be send to:
P.O. Box 403 - La Fox, Illinois 60147
If you're local and want to volunteer weeding gardens or giving tours of the inn call Jerry and he'll be able to direct you.
Next week is Garfield's Barn Dance event and I would love nothing more than to have Jerry approach me and say that's he's received donations or words of encouragement from near and far on this planet.