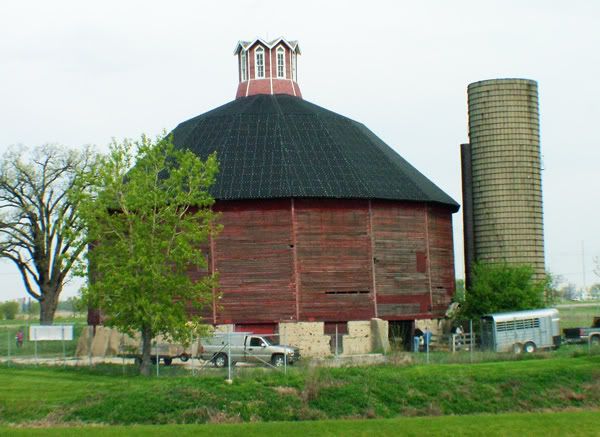 This photo was taken at one of the Teeple Barn events. As I mentioned yesterday many caring people worked hard to save this barn.
The unusual 16-sided balloon frame barn was built circa 1885 by Lester Teeple and lived it's working life as a dairy barn. Designed by a prominent Elgin architect W.W. Abell the farm remained in the Teeple family for over 100 years.
In 1978 the barn was listed on the National Register of Historic Places which helped to save it from destruction a decade later. Civilization and development plowed west towards the farm. The barn faced Randall Road to the west. Once a two lane gravel road Randall is now a traffic clogged north-south artery. Just to the north of the barn Illinois built a toll-road, I-90, leading west from Chicago. The farm was sold to the Matsushita Corporation (Panasonic) in 1989 and with the construction of the Panasonic plant the Teeple barn was forever marooned on a small triangle of land.
One of the first acts to save the barn is an interesting story. At the time Matsushita acquired the property and built the plant the barn was still loaded with many tons of hay. The weight of the hay, over time, was causing the barn to lean and threatening a collapse. The Teeples and some others begged Matsushita to allow them to remove the hay, but fearing a disaster and liability issues the corporation declined.
The farmers decided to stage an act of civil disobedience. They gathered together their farm equipment and called the newspapers to meet them the next morning at the barn. Faced with the farmers and the press Matsushita relented and allowed the farmers to remove the hay.
Over the years many other efforts had been made to stabilize the building. More tomorrow on this interesting structure.