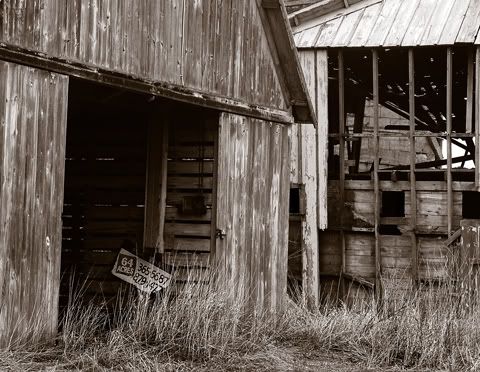 64 acres for sale. Twelve inches of jet black topsoil. Includes a sagging farmhouse with broken windows, barns and outbuildings crumbling under the weight of their uselessness. What is it about the occupation of a building that keeps it vital. It doesn't seem to me that immense amounts of effort go into the maintenance of a building, but the lack of such creates such chaos.
Perhaps the breath and body warmth of animals and humans alike breathe life into the structures.....or is that just nonsense? I do know this much, without the constant touch of man they decay at an exponential rate. Soon a strong gust of wind will signal their end, loosening a single nail or board which serves as a lynchpin to the house of cards.
The oven in the farmhouse hasn't seen a warm meal in many years - now it's just a shelter for nests of mice. Is it a mistake to romanticize the life that was one lived here? I don't think so. It was a hard life, but one that agreed with those who chose to live their lives planting, harvesting, repairing machinery, feeding animals, cooking, cleaning, canning, hanging laundry on the lines. Clotheslines? They will be banned in the suburban community that will occupy this spot.