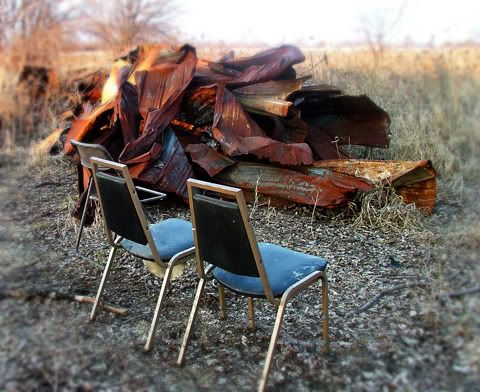 I hiked past the burned out farmhouse, the cold air biting at my lungs. Spring seems so far away. The driveway which is no more than two ruts laid with gravel, rises and then dips down past the old garage. Car bumpers and old doors fill the space and spilling out under an old tree are a mattress and a couch. They look so out of place in the outdoors.
A little further I come upon an odd scene. Three chairs have been lined up perfectly - two sturdy banquet chairs and a folding chair that's missing it's seat. Aligned just so, they stand before a rusting a twisted form that was once a grain storage building. It's difficult to tell how it met it's demise, heavy equipment wouldn't twist it in such a manner.
My mind attempts to wrap itself around the scene. There are no empty whiskey bottles or signs of a campfire. It seems as if someone set the scene to watch in relative comfort as the old metal deteriorates, molecule by molecule.