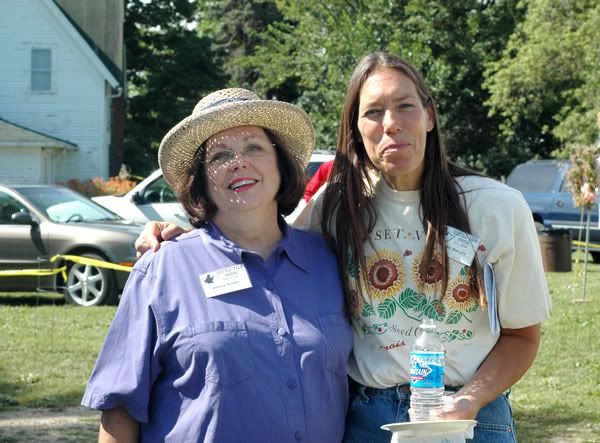 Somebody once said to me, "If you want to get something done, ask a busy woman to do it."
Here are two busy ladies that make things happen. On the left is Donna Neiler, a board member for the Garfield Farm Museum. She got plenty of energy and I was amazed at her ability to keep the hoardes of shoppers behind the orange cones until the magic 9 o'clock hour. This is unheard of in the annals of garage/estate/barn sales. The early birds are very persistant, but Donna runs a tight ship! She's got alot of good ideas and the ability to put together a team to bring those ideas to life.
On the right is Denise Morgan, who was the person in charge of sorting, displaying and pricing. Her and her volunteers worked up to 12 hours per day and put together a very well organized sale. The original plan was to display all the merchandise in the machine shed, but with the flood of donations the sale spread to the cattle shed and horse barn also.
More than one person at the sale had wonderful things to say about Denise's efforts. She impressed alot of people.
Next we'll meet some of the volunteers, including a teamster who is
not
a truck driver.