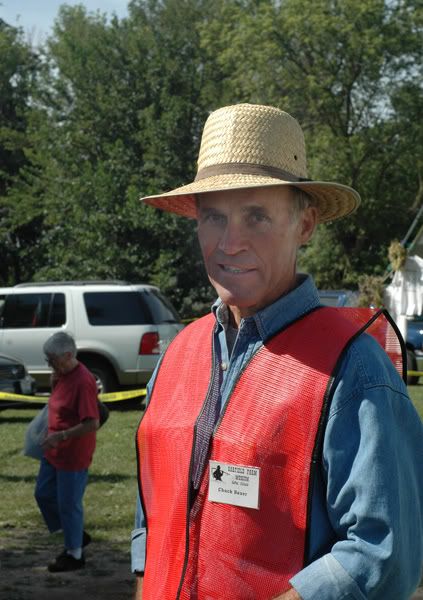 On the day of the barn sale Chuck Bauer helped out directing cars into the grassy side yard that served as a parking lot for the day.
He probably looks familiar to you because he's been pictured here before, working in his capacity as a
teamster,
for the Garfield Farm Museum. In the context of the museum and Chuck's duties a teamster is an ox driver and not a a member of a labor union. Garfield Farm was originally a teamster's inn.
He saw the cameras around my neck, figured out my identity and introduced himself. We were able to chat a bit between the rush of cars and I learned that although one man could drive the oxen it too two people working together to actually plow a field.
It's amazing to watch Chuck in action. The combined weight of the oxen is thousands of pounds and the teamsters direct them with voice commands and a goad. The goad does not serve as a whip, but a visual or touch clue that supports the voice command.
If you ever have a chance to watch a teamster in action, don't miss it. Even better, check out
Garfield Farm's calendar
and make plans to participate in the ox driving class next year. A urban dweller who took the class a couple years ago said that it was on her list of 100 things to do before she died!