Galena was once home to General Ulysses S. Grant. He was born in Ohio and arrived in Galena in 1860 after retiring from a military career. The plan was that he would join his father and brothers in business, but Grant was not a shopkeeper. In 1861 he left to command troops in the Civil War and upon his return the citizens of Galena presented the General and Julia Dent Grant a fully furnished home on the east side of the river. They made this town their home until 1868 when Grant was elected President. As she left for Washington, Julia Grant vowed never to return the what she considered a rough-and-tumble, uncivilized town.
The house was left standing with only sporadic visits by General Grant. In 1904 their children donated the home to the city with the stipulation that it be maintained in memory of their father.
Grant's home
is unusual in the fact that it is filled with original furnishings, down to the salt shakers.
Follow the link to view the home. For some reason I didn't take a photograph! It is a modest home in comparison to some of the ostentatious mansions overlooking Galena from the hillside. Here's one of the beautiful examples of Galena architecture: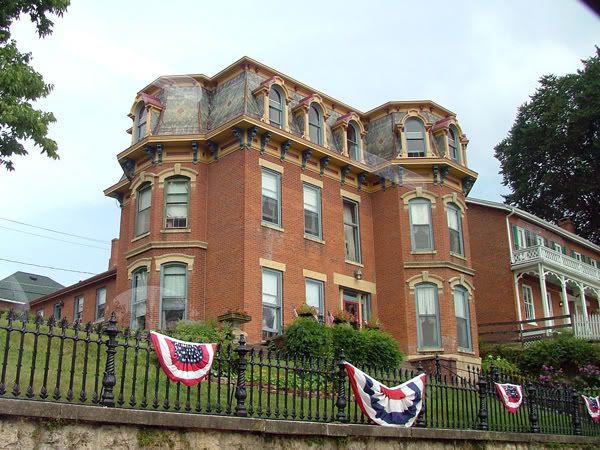 This hints at the challenges facing homeowners on a day-to-day basis.
The answer? No one is "buried" in Grant's Tomb. Ulysses and Julia are "entombed" in Grant's Tomb in New York. There was a possibility that he would be buried in Galena as it was one of the spots he requested. His wish was to be laid to rest in one of three spots but NOT Washington.