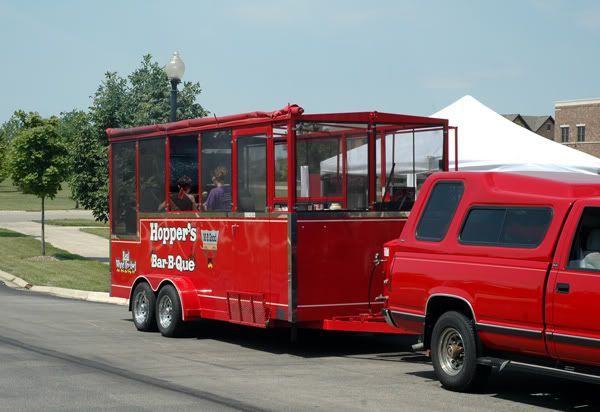 There's not much that can pass for barbecue north of the Mason-Dixon line and even less in this part of the midwest. Here's an authentic entry into the barbecue world not far from my house.
I was driving down La Fox Road when I detected the aroma of hickory wood smoke - yep, I smelled the operation before it came into view. It's hard to miss Larry Hopper's custom made barbecue trailer - it's BIG RED. The truck's red too, as is Larry's shirt, which can only mean one thing - he's a
Razorback
fan. The farmer and I knew immediately that we were in for an awesome pulled pork sandwich. I know, I know, those of you from Houston or Kansas City will argue with me but my Tennessee and Florida panhandle roots proclaim and pulled pork is the grail of barbecue.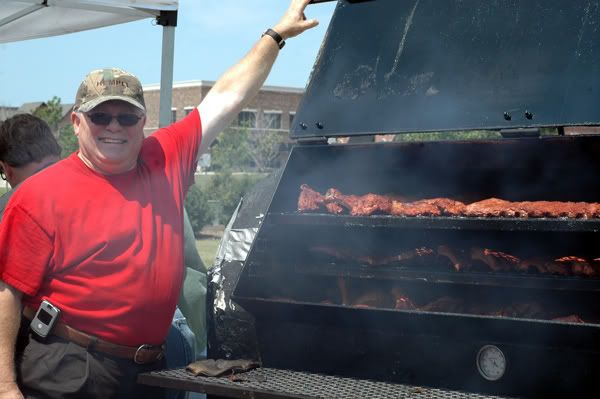 Here's Larry himself, lifting the lid on his specially made, water-cooled smoker grill. I'm so hungry just looking at this image. Hopper's also serves the Texas variety of barbecue - beef brisket. Some Texans, relocated here during a company merger, have already sniffed out his operation and become good customers.
Within the next few months Larry and his crew will build out a storefront in Campton Center, the location of yesterdays farmer's market. He needs to work fast because I cna't imagine him cooking barbecue in our winter conditions.
UPDATE:
We stopped for barbecue on the way through Wasco on Sunday. The pulled pork wasn't quite ready yet so I made good on my promise to myself to try the brisket.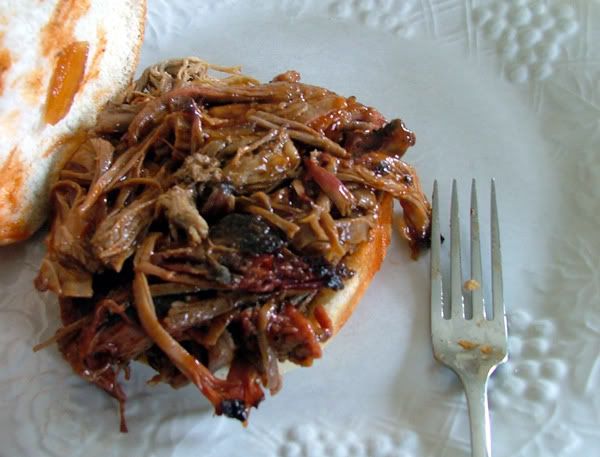 I apologize to all the Texans, whose judgment I doubted. WOW - I think I'm a convert.