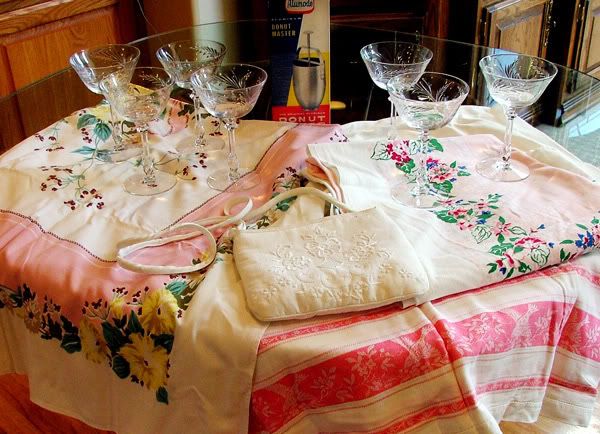 Here's what $10.25 bought me at the Garfield Farm Barn sale.
Three beautiful vintage tablecloths.
The fourth one eluded me as a woman snatched up before I could grab it.
A nice white embroidered handbag.
I have plans on further embellishing the bag.
Seven hand etched crystal champagne glasses.
Yes, seven is an odd number but I can fill in with the 40 or so other hand-etched glasses I own. Did anyone say obsession?
A vintage aluminum donut maker in it's original box. Made in Manitowoc, Wisconsin.
I promised Garfield's education director Patty Kennedy that I'd make her some donuts.
It has occurred to me that "the farmers wife" is filled with images of barns and cornfields and lacking in photos of the people who work hard to make our community what it is. Check back tomorrow when I introduce you to the people who organized the sale and some happy customers too!