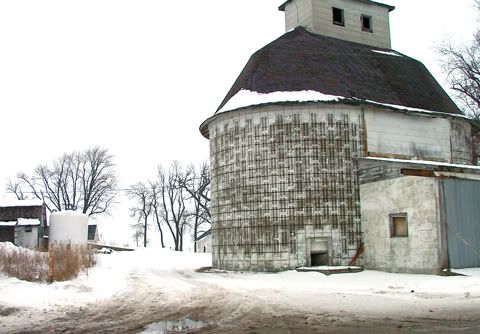 This oval shaped building is a corn crib, and this particular style of crib is my favorite. This particular crib is a type made of a concrete type substance that is fireproof. Notice the slotted areas which provide air circulation and the iron bands that encircle and strengthen the structure. The feature at the top houses machinery for a conveyor system that loaded grain into the crib.
The grain stored in this crib was used to feed the farmers livestock. Grain for sale is stored in large co-op graineries, usually there's one in each rural town, and a huge regional grain storage facility. This crib stands in the direct path of new development, and farmers in this area have moved on, of those that remain few keep their own livestock.
It would be interesting to think of new uses for some of these building.