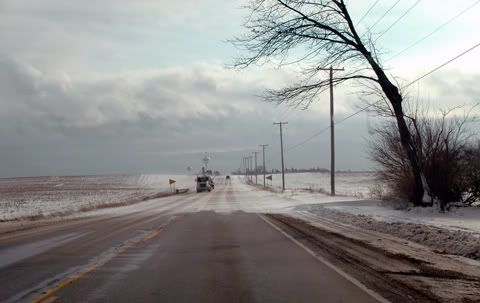 Danger still lurks, long after the snowstorm has passed. It's said the Eskimos have up to 40 words for snow, and this would represent the situation after a snowstorm of the variety that is a bit dry and grainy.
Farms and outbuilding or wooded areas along the roadway serve as a windbreak, preventing snow from blowing across the highway. In this case we're just passing a farm that's surrounded by woods and you can see the pavement is clear, but just ahead as the highway passes through open fields, the strong west wind has kicked up the snow, creating a drifting situation.
This can be dangerous especially if you're not familiar with the roads. On a bright sunny day you can come up over a hill, or around a bend to find the road is drifted shut. This can happen as fast as 10-15 minutes after the snow plows have passed through. My husband once drove up and over a small rise only to bury the nose of the car into a 6 foot drift. Now you're in trouble because if there's another vehicle coming up behind they'll plow into you. If you can get out of the car (think about pushing a car door open against chest deep snow) you'll be faced with trudging through deep snow. Some snow can support your weight and some cannot.
This is a situation we rarely face, as conditions must be right for the super drifting to occur. The trunk in winter contains - a blanket, a shovel, a bag of salt (for weight and traction), hazard marker, candy bars or granola bars (honestly, you never know), an old rug. The old rug can be wedged under a real tire to "grab" and get you out of some sticky situations.
I know alot of you live in warmer climates and can't understand it, but i count myself as one of those people who loves winter, loves the snow and loves the change of seasons and variety. To be a dyed in the wool midwesterner, you gotta love a challenge!