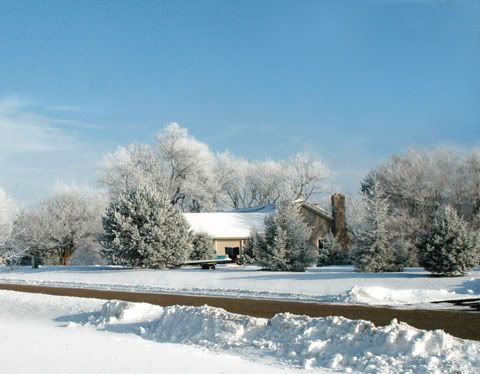 As if to rewards those willing to live in the unforgiving cold, Mother Nature rewards us with scenes of unparalled beauty. One of her most dramatic effects is something called hoarfrost. A quick search on the internet could provide a scientific explanation, but that knowledge would add nothing to the experience. Some things are best left to the realm of magic.
In the evening the moon casts it's light across the snow, creating a scene of stark contrasts. You fall asleep in the purple and blue glow, unaware of what will await you the next morning. Rising early you walk to the window and discover that the entire landscape has been blanketed with a white sugary coating - hoarfrost.
Falling snow lands and collects only on the upper edges of the branches, but hoarfrost covers every surface in it's glittering shards of frost.