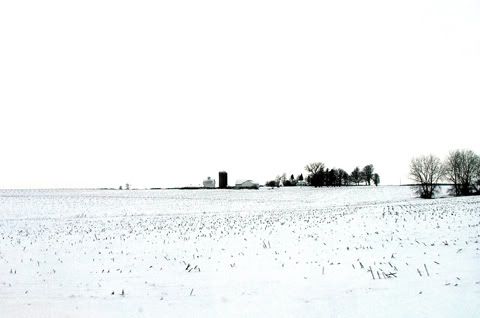 No this isn't a photo of Fargo, North Dakota. It's just that everytime I drive a snowy rural road I'm reminded of when the movie Fargo was released.
The critics waxed poetic about the landscape, making it a silent character of sorts. In all seriousness they discussed the exotic desolate landscape as if it was the valleys of the moon. On and on they went until it began to seem silly to a midwesterner. Nah, that's not an exotic dangerous landscape, it's just rural route 43, only dangerous if you slide off into a culvert and are covered by a snowdrift before another car drives by.
I'll tell you right now, you're gonna get plenty sick of snowy-landscape-with-farms-in-the-distance photos. That's all that on the menu these days and it's snowing again as we speak. Perhaps I'll switch indoors and get some shots of the mountains of Christmas cookies we'll be baking over the next week or so.......hmmmmm.