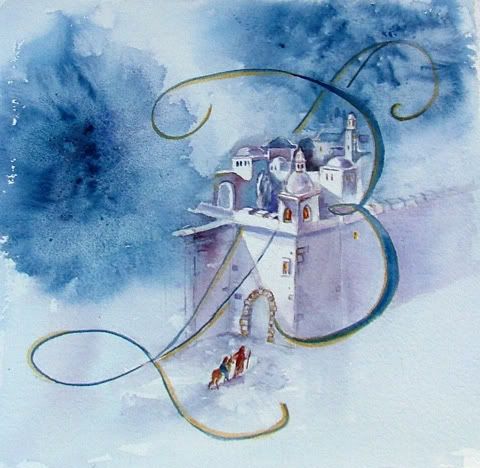 "For unto you is born this day, in the City of David, a saviour which is Christ the Lord."
This lovely watercolor representation was created by a member of the nearby Christ Community Church. Cheryl Smith is only one of a large number of creative people who lend their talents to the church community. In addition to musical gifts, dancers, videographers and photographers, traditional artists participate.
Once a month a theme is determined and artists submit their work for display. For the christmas season 23 small canvases were distributed and each artist was assigned a letter, the combination of which spelled out the phrase, "For unto you is born.......". It's always amazing to see the different talents and styles.
Merry Christmas to all. May you have a joyous time, however you choose to celebrate this time of year. Many thanks for all the people who view and participate in my efforts. My intention, beyond fulfilling my creative urges, is to present my little corner of the world and promote a better understanding of those in the heartland.
"I bring you good tidings of great joy, that will be for all people."