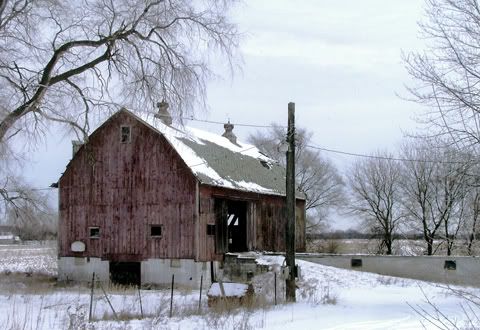 As promised yesterday, I dug into the archives in the computer and found the photo that was used for last years Christmas card.
This was one of my favorite barns and I loved to pass by in all seasons. The fact that the fairly modern ranch house was abandoned and boarded up should have been a clue that the developers were moving in. I didn't however, see any surveyors or blaze orange surveyors tape anywhere in sight.
I pulled up into the driveway one Sunday morning to take some photos. It was very quiet and I imagined the teenagers shooting some hoops on the small basketball court on the west side of the barn, after they finished their chores. The barn was once filled with hay and dairy cows.
I pass this way at least once a week. A couple months after this photo was taken I rounded the curve on my weekly trip and was shocked to see nothing. The barn had been razed or dismanteled, the house demolished and the entire area looked bare and small.