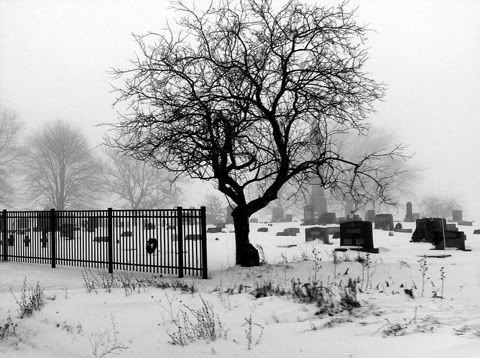 I like to visit the cemetery in all kinds of weather. It's a place of quiet contemplation, a beautiful hilltop location that looks down a gently sloping hillside to the west. It's interesting that in the tradition of the Indians, all the graves are lined up east to west, everyone buried with their heads facing the rising sun.
My daughters friend Cody is buried here, and I visit when I'm driving by and have the time. It's a matter of respect, for him and his family.
My family cemetery is located on a hilltop overlooking the Cumberland River in northern Tennessee. The maintenance of a cemetery is alot of work, and a labor of love and again, respect for our ancestors. We would help my elderly uncle as he mowed and generallly cleaned the area, which is probably 5 or 6 acres. In the heat of the day we'd sit and rest on the low concrete wall surrounding the graves of my grandfather and his wives, one of whom died in the influenza epidemic and the other died shortly after my mothers birth.
We would sit a spell in the southern tradition, talking about old times and stories about the people who now laid at rest in the Nesbitt cemetery. My uncle is gone and he now rests among the others.