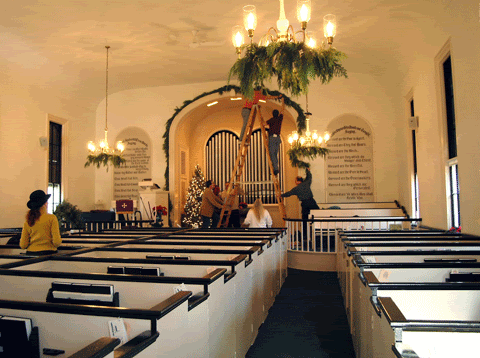 Members of The Little Home Church by the Wayside, in the small community of Wayne, Illinois, gather each year to decorate the santuary in a time honored traditional called the hanging of the greens.
This church was built by early settlers and resembles houses of worship in New England in it's simplicity and design.
Mrs. Richardson and her friend sat in the back pew for as many years as I can remember. Her friend has passed away and Mrs. Richardson, who turned 100 years old this year, rarely attends church anymore. But the traditions that her generation and those before her instituted, live on with a few new twists.
Everyone who wishes to participate is given a task, and even the children help out. On the evening of the Christmas pageant, live animals (sheep, goats and occasionally a donkey) inhabit the creche just outside the door. One year the donkey brayed loudly through the entire pageant. The littlest newborn in the congregation serves as baby Jesus as the children reenact the Christmas story on the altar. Younger boys serving as cherubs look forward to the day they can move up to being shepherds.