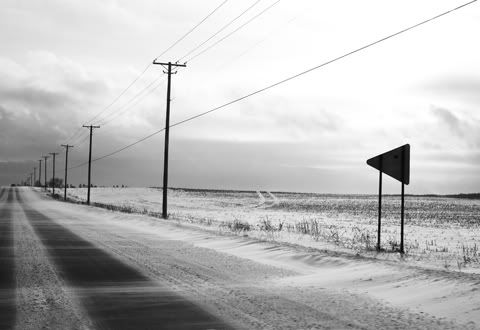 At some point as a midwesterner you become aware of the wind. Of course on some level you're aware of the wind your whole life, but not in a cognizant way. You never fully realize that the wind is an element of the landscape, as much as the sky or terra firma. It's the invisible element that defines the place.
Usually it isn't until you move elsewhere, or spend a significant block of time away from home the thought creeps in that something is missing. Things seem off-kilter, something's not quite right and you can't put your finger on it. The wind, where's the wind? Where's the driving, punishing enforcer of the weather gods, the force that turns cornfields into valleys of the moon, that pushes snow across the scene like a sandstorm in the Sahara?
Every place had it's silent element. In areas of the south it's the smell. I can get off a plane, take a deep breath and memories and visions of the south fill my brain. A heady cocktail of sandy soil and pine needles takes me back to the Florida panhandle with an old pickup truck bumping along the back roads, the bed loaded with kids anticipating a swim in the old sand pond.