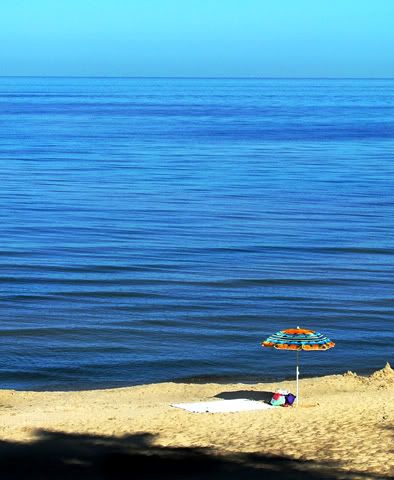 Although not technically a sea, Lake Michigan stretches as far as the eye can see. It commands respect from all who choose to ply its waters. Not as dangerous as its deep, cold and mysterious sister to the north, Lake Superior, it nonetheless can be a widowmaker. Only a foolish sailor would underestimate the power of Lake Michigan.
I sat for awhile midway down the long staircase leading from the high bluffs down to the beach. Early in the morning the water is a as calm as glass, only later does the wind pick up and whip the water into a confusion of waves and white caps. Smaller craft and pontoon boats cruise to the mouth of the Kalamazoo River that leads onto the lake. At this point they turn around and cruise back. Only the larger crafts dare enter the rough waters.
Summer is simple and lovely in Saugatuck and Douglas, Michigan in the summertime.