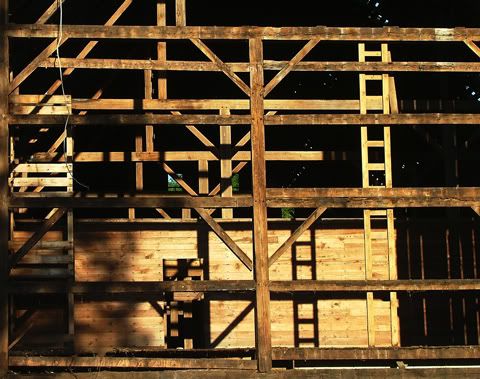 "The barn is America at it's fragrant and warmest best. It stands for the genius of a nation built of rich soil and fat cattle." - Robert P. Tristram Cuffin, On the Green Carpet, 1951
Perhaps it's no mistaked that I happened across a copy of "The Lovely Bones" a couple weeks ago at the Goodwill store. Last Tuesday evening I began to read.
Those of you who have been following The Farmers Wife for awhile know about
"the barn".
It was an image entitled, "Milking Room Window" that first drew Pilgrim to my site, an image that spoke to him across the miles in faraway Paraguay.
I've bemoaned the barn's fate in image and in word, loudly dreading the day of it's demise. The vow was made publicly that although not around for it's raising, I would record it's razing.