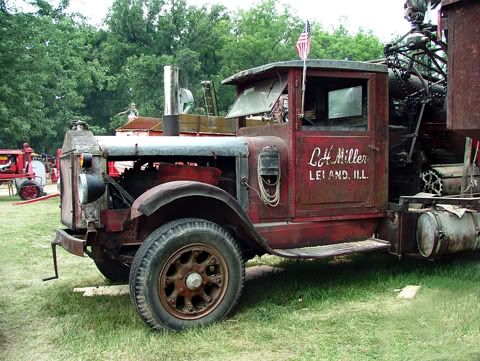 Here at the Farmers Wife we spare no expense to bring you the best American midwest experience. Today I headed out to a threshing bee....not just any threshing bee, but a steam powered event!
Let me begin by saying that if it's mechnical and has an engine, there's a guy somewhere that collects it. As for Farmers Wives, they simply hold out for a 1970 Chevelle SS454.
The four day event at a local farm in Sycamore, provides last minute summer jobs to local teenagers who run the parking lot, a.k.a. a large pasture just south of the outbuildings. It was quite exciting for me to do a little off-roading across the bumpy field in my Grand Am.
This is the Lott Miller rig, which is an appropriate entry to begin the foray into a steam powered farm experience. IT RUNS!! And it was the vehicle in charge of the corn husking apparatus. More about that later, and coming up.....a contest!
My hope was to get down to the small Aurora airport later in the day to capture photos of the WW2 B17G Flying Fortress. There's only so much time and money! The 25 minute flight in the flying fortress came in at $395, and that's more than the Farmers Wife budget can comfortably afford. Heck, the Farmers Wife doesn't have a budget come to think of it.
But today I spent $9.95.........
Entrance ticket - $5.00
Ear of roasted corn - $1.00
Small tub of homemade fudge - $1.00
Jar of homemade Blackberry Butter - $2.95
An awful lot of fun for under 10 bucks. So here's Lot Miller rig, and we're on our way.