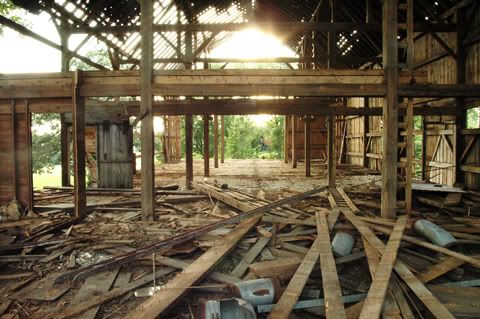 The crew leader is young and fit, one of those taking up the torch from those who've had their heyday. He opens his mouth to speak and I am taken aback by his words, "Yes, we're removing the exterior barn siding and battens which will be used in the construction of a nature center in Bourbonnais, Illinois."
It was a sunny morning and at that moment I'd wished I had worn my sunglasses. It would hide the misty stuff building up in the corner of my eye. Turning quickly and looking into the gaping hole I secretly wished the young man wouldn't notice. He was probably thinking I was an aging, barn-hugging hippie freak.
It's amazing sometimes how things work out. All these months I'd dreaded the loss of the barn. I still will miss it's looming presence on the landscape, but the barn will live on in a different form - a shelter for educating people about nature. It will continue a new line of work for years to come. And when the nature center has outlived it's usefulness......who knows?
Perhaps someday I'll drive down to Bourbonnais, and visit an old friend.