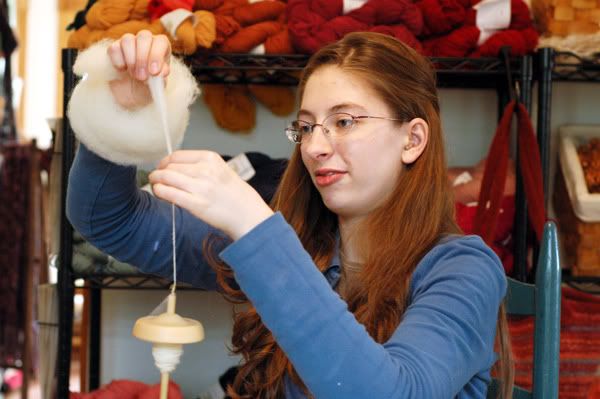 On Wednesday my friend, anthropologist and author
Ellen Steinberg
and I met at Esther's Place in Big Rock, Illinois to study under shop owner Natasha Lehrer. About a year ago I read a fascinating book entitled,
This Cruel War,
which was an almost complete compilation of letters sent between Grant and Malinda Taylor during the civil war. It was an invaluable look into day-to-day life druing that era.
One thing that fascinated me the most was how fabric and fiber was held as a most precious commodity (that and salt). The salt was used to cure the meat when an animal was slaughtered, and the fabric was precious because of the amount of effort required to produce a length of cloth.
In their letters the husband and wife debated the use of a length of homespun fabric, whether it would be used for a shirt for him or clothing for the children. We soon learned the time and effort required to produce a very small skein of yarn - an entire afternoon's work amounted to a few yards after plying.