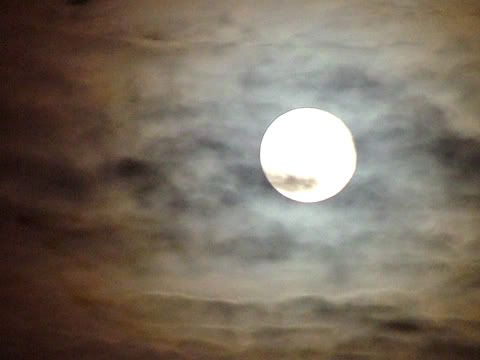 In addition to hoarfrost, Mother Nature puts on a nighttime show in the winter. It's something called a moon dog, a glowing ring around the moon. On a clear winters night, when conditions are right you can view the show.
Of course if you search on the web you'll find a scientific explanation, some blah blah about ice crystal shapes.
"The ring that appears around the moon arises from light passing through six-sided ice crystals high in the atmosphere. These ice crystals refract, or bend, light in the same manner that a camera lens bends light. The ring has a diameter of 22° , and sometimes, if you are lucky, it is also possible to detect a second ring, 44° diameter. Thin high cirrus clouds lofting at 20,000 feet or more contain tiny ice crystals that originate from the freezing of super cooled water droplets. These crystals behave like jewels refracting and reflecting in different directions. "
Personally I find it interesting to understand how things work....... in some instances. In the case of a Moon Dog it somewhat destroys the mystery. So in my book - -
It's magic!