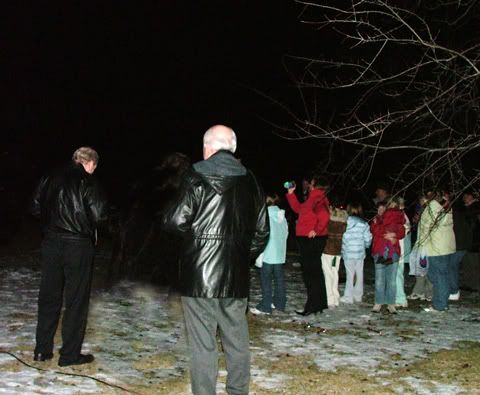 Good advice to anyone moving to the midwest is to find a way to enjoy yourselves outdoors. Pick an acitivity - if you have the need for speed there's snowmobiling, skiing is available on small hills that sadly pass for "mountains". Cross country skiing will bring you closer to nature and you would be surprised at the diverse wildlife you'll discover while swishing along the trails.
You might ask yourself what happening in this photo. The gentleman with his back to you in the foreground is dreaming of hitting the trails tomorrow with his new snowshoes. Everyone has gathered in the 26 degree night to celebrate the New Year in our tiny community.
What is it? Why, it's the Corn Drop!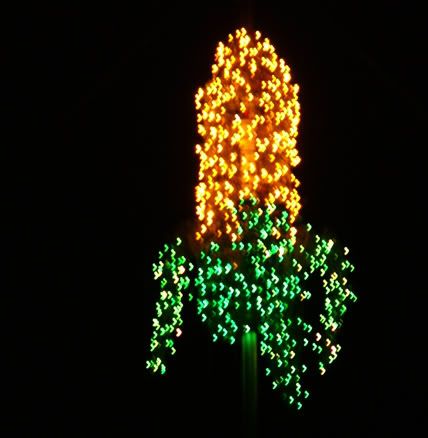 Our neighbor Bryan is a transplanted Long Islander. Years ago he was missing the famous "ball drop" New Years celebration in New York. Being a creative sort he devised the now famous "Corn Drop".
In his workshop he fashioned a five foot tall ear of corn, wrapped in thousands and thousands of yellow and green lights. The corn is mounted on a 35 foot pole and we spend a couple hours indoors eating, drinking and awaiting midnight. About 15 minutes before midnight we don our coats and stand out in the frosty evening, contemplating the year past and thinking about what the next year might bring. I mentioned to Bryan that in order to be authentic he would need to rotate the crop, corn drop one year, soybean the next. (It's an inside farmers joke folks). Bryan claims he wouldn't know how to fashion a proper soybean.
The best thing about living here is that we know our neighbors well. We pitch in when they need help, we celebrate birth and death together. We disagree, we work it out or we just leave it be.