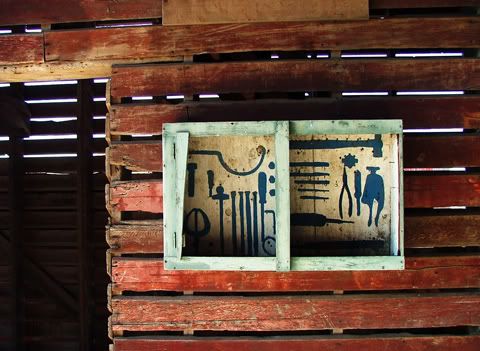 This photograph was taken a short while ago. The inside of the corn crib is no longer accessible, filled with debris from it's own destruction. Crews are systematically demolishing the farm buildings to make way for a new subdivision.
I spent quite a bit of time at this property, recording some of the more interesting features, including a typical ribstone silo.
This system was employed by the farmer in an attempt to keep his tools organized and to alert him if he'd unknowingly left one laying around as he worked. The box is hand constructed and the shape of each tool has been carefully hand painted on the back board. Small nails were driven into the wood and allowed the farmer to hange each tool in it's predetermined spot.
This corn crib also had a chair sitting next to the conveyor system that served to lift and deposit the corn into the crib. Even though the farm had long since been abandoned the chair made it feel as if the farmer might return to work any moment.