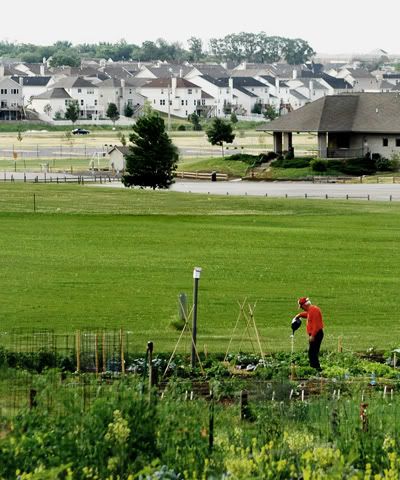 "Nine miles from here", is a term you will hear me using often. It refers to the approach of development which is burning like a runaway prairie fire just nine miles from here.
The residents of an older community set aside what appears to be about 2 or 3 acres of land. Years ago it was plowed and tilled and sectioned off into small individual gardening plots, and each year the stewards of those plots raise corn, lettuce, cabbage, pumpkins, tomatoes....whatever their hearts desire.
This gentleman waters his small crop as progress looms in the background. Things look grim for these suburban farmers. The land their crops inhabit is too valuable as development fodder. At least three $500,000 homes, or one good sized strip mall could occupy this space. I wonder if they can smell imminent domain creeping down upon their little piece of heaven?