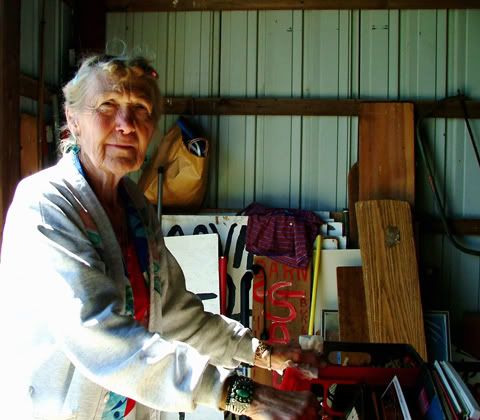 This is Margie. She is perhaps the most interesting person I've met in the 11 years I've lived in the country. Her and her husband built their place in 1948 on 5 acres just down the road from me. In the beginning there was no running water, indoor plumbing or central heat. In the wintertime, water turned to ice as she scrubbed her kitchen floor. She's just one of those wonderful, honest and hard working people who are the strong foundation of our community. Her and her husband continue to work - she runs antique and estate sales, and he's a farrier, shoeing horses for local farmers and equestrian centers.
Unfortunately, the new people moving in, attracted by the developers promises of "Large Homes - Less Money", will never take the time to get to know Marge. After all, she doesn't shop at the Coach Handbag store over on Randall Road.
This is probably not a very good portraits, as portraits go. The details on her sweater are blown out, and the lighting on her face a little strange. But perhaps, just perhaps, I've captured some of the "stuff" that this woman is made of. I caught her at the barn sale, and it seems fitting that she's surrounded by her stuff. I found some great little treasures, spent $11 and helped myself to her free coffee and cookies!