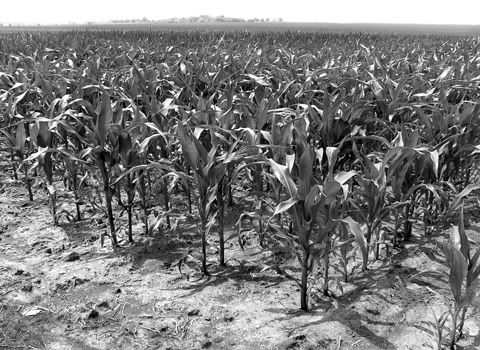 Does it look hot and dry? It is. The corn is in danger of popping in the field.
I received an e-mail from Jerry at Garfield Farm in which he passed along the information that this is the driest early spring and summer since 1939. That fact that the corn plants are this tall and fairly healthy looking is a testament the development of drought resistant plants. The old saying is that the corn should be knee high by the 4th of July and this corn has surprisingly passed that mark.
I love to watch the fields. The perfectly spaced rows stretch as far as the eye can see. A windbreak of trees appears like a mirage on the gently curving horizon.
The corn loves basking in the heat, but only if it can be refreshed by a good rain. Mother Nature teased us mercifully last night, throwing a wave of lightning and thunder in from the Mississippi River, only to break the promise of rain. Not a drop fell on the parched earth.