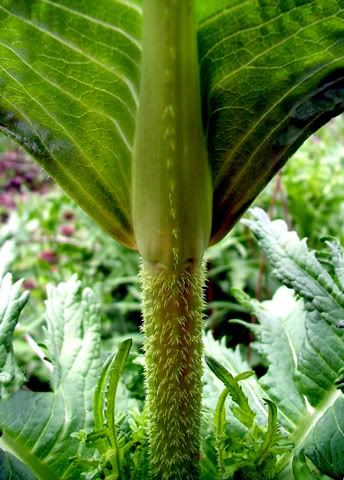 Two barns had come down in one week, and my mood was definitely gray if not black. It occurred to me that it has been awhile since we checked in on the progress of the corn crop. With all good intentions of grabbing some corn shots, I started tramping around at the edge of the field. Every photo seemed to be boring and uninspired. In frustration I headed toward a large stand of sticky, bristly weeds near the treeline.
At this point I realized that I was walking, walking, walking aimlessly, snapping and hoping for a photograph to appear. I decided to stand still at the edge of the weed patch and take the time to slow down and observe. Motionless, I listened to the sounds - the ever present prairie wind and an unfamiliar bird call. My eyes turned towards the weeds where if you looked closely you could discern strange forms and wonderful color.
The weedy landscape changed over the following 15 minutes. A dragonfly flitted between the plant, making it impossible to catch him with the camera. Flies sunned themselves on broad leaves and butterflies danced playfully over the dangerous barbs. The thistle leaves created a canopy shading the prehistoric looking stem.
A wonderful way to spend a quarter of an hour.....slowing down and taking notice of the secret life of weeds.