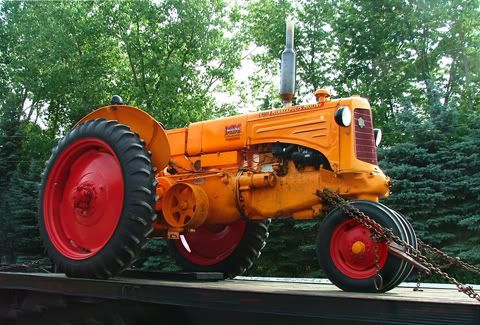 On my way out to do errands this morning I stopped for gas at the Pride Pantry. Luck had it that pumping gas across from me was a guy hauling this beautiful 1948 Minneapolis Moline tractor to a show out in Sandwich, IL.
I struck up a conversation and asked him if I could take some pictures. People are always happy to talk about their passions, and collecting old tractors is his. He told me that after World War II, when farmers were choosing to upgrade to the bigger machines, these were languishing in barns all over the countryside. You could pick them up for $50 to $75, and he in fact had originally paid $75 for this machine. He assured me that he could now get at least $1,075, although in truth it's worth much more than that.
When I shared the pics on the LCD screen he became a critic of composition. He was unhappy about the broad banded canopy over the gas pumps, and offered to pull his truck and trailer out and in front of some nice trees to provide a suitable backdrop! And, being ever the collector he was concerned about the paint not being in pristine condition. No worries Avery - this is a working machine!