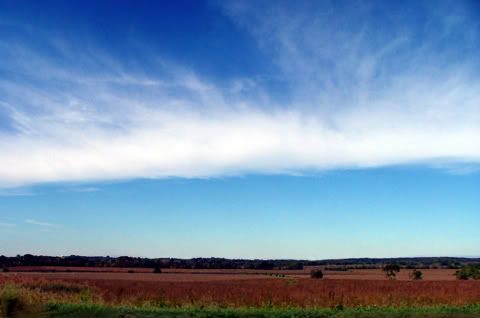 Nothing of interest, except a sky the color of a rare gem. It's such a boost to the spirit after what seems like an eternity of grey.
Today I will continue the one year celebration with the help of loyal readers.
Val Jack wrote that her favorite was from November 1, 2005, "Rough Road". She says, "The picture with its arching trees & the road disappearing over the rise. I love going on road trips and this reminds me of the fun & adventure of being lost on a back road, unsure where it's heading to & hoping another car or town isn't too far away. I've been lost many a time on our roads around here & towns are a long distance in between, so that's not a good thing."
I know the feeling exactly Val. One day I decided to pick a highway and follow it as far as it would take me - - I ended up at the Mississippi River than afternoon!
Sheila says that Coal Train (March 5, 2006) and Moon Dog (Jan. 14, 2006) were among her favorites. "Your blog is a treasure island. You keep it marvelously simple which just adds to its beauty."
Tim Rice, who publishes
Ramblings
love the photos of kids and their farm animals, taken at Garfield Farms Rare Breeds Show (May 23rd, 2005). I know that Tim loves kids, so I knew that these would be among his favorites.
Join me again tomorrow for a few more favorites.
And please accept my sincere thanks for making the Farmers Wife a part of your day.