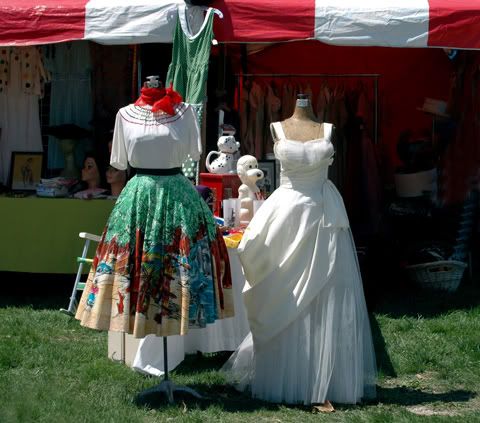 The local flea markets and antique markets should be marketed as affordable entertaintment venues. For the $5 entrance fee you get an entire day of people watching and literally acres of crazy and cool stuff. It's amazing what's hauled to the sale, and more amazing is what actually sells. I watched as an ugly 70's metal wall sculpture sold for $70. It occurred to me that I'm in the wrong business.
In addition to people watching there's plenty of great food for sale. The spinach pie wagon got my vote at Sundays antique market. The perfect square of spinach, cheese and fillo dough was hot and savory with a crispy crust ... just perfect. I took a pass on the funnel cakes, and next time I'll surely check out the pork chop sandwiches prepared by a local church group.
This photograph depicts a booth that sold vintage clothing. I simply loved the image, a disembodied ingenue and a prom queen.