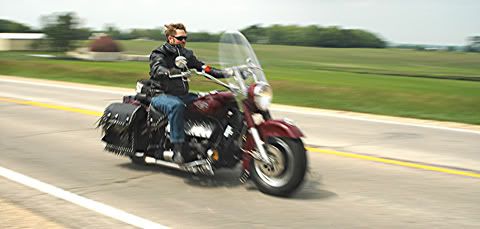 This bike belongs to a local man. It's a V-12. Yes, you heard me right...V-12.
Continuing on our list of Farmers Wife favorites....
Nancy Bea Miller
weighs in with the choice of Sept 26 entitled "Weather". She writes, "It's a great photo and I love your observation that perhaps Illinois should be know as Pretty Big Sky Country." Her husband is from Illinois and they come back for family gatherings, etc.
Pablo, the publisher of
Round Rock Journal
chose October 12, Volunteer as his favorite. He writes, "I love the lighting in that photo. It is absolutely perfect, and the narrative that accompanies it illustrates perfectly the nature of small town & rural living."
Pablo, that photo is one of my favorites also. Beyond the perfect lighting it was a very dramatic scene, a roaring barn fire about a mile away and volunteer firemen ferrying back and forth to fill their water trucks.
Adrian Hudson, from Devon, U.K. votes for October 22, the Lonely Tree. He says he's a sucker for lonely tree shots. He has half a hard disk full of them!! Bravo Adrian. I have "lonely tree" wallpaper image on my cell phone, that's how much I love them.