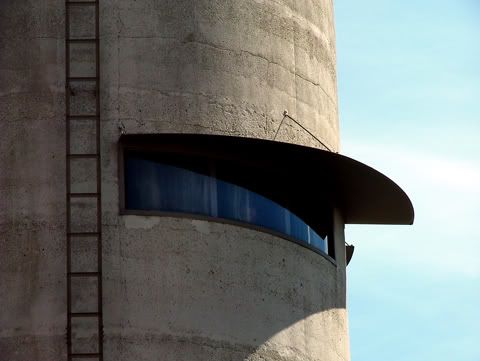 It was a clear and warm day in northern Illinois, and I decided to take a ride to Peck Farm Park and climb the circular staircase inside the silo that has been converted to an observation building. There are three levels, with windows at each platform, looking out onto the prairie, lake and presentation barn.
As you can imagine sound reverberates inside the concrete structure. My shoes clanked against the metal stairs, as I climbed to the second level and snapped some photos. There was a sound.....someone was on the level above me. I took a few more photos and decided whether to climb further. Standing at the next curve of stairs, the entire building suddenly filled with the most haunting music. I was mesmerized. The sound reminded me of a native American flute, haunting...plaintive notes echoed off the walls surrounding me and literally vibrating in every direction.
The music continued, fading and rising, warbling lightly and the next moment gone...silence. I stood stock still, unable and unwilling to move. I thought for a moment about whether to climb up, not wanting to invade this musicians space. But I had to thank him for the concert.
I resisted the temptation to satisfy my curiousity... who was he, why was he here, how often does he come here to play? Usually I want to know everything, but the music was so perfect and stood alone in that perfection. He did show me the flute, a Japanese Shakuhachi, something entirely new to me.
Climbing back down the staircase I left him to his music. The notes floated through the building, out the doorway and across the prairie, fading as it moved along the grassy hillside.
If you go
here
, you can read all about the Shakuhachi flute and listen to one being played. They say that it's used in Zen Buddhist meditation, and this evening I am meditating about the improbability of experiencing an impromptu Shakuhachi concert in a grain silo!