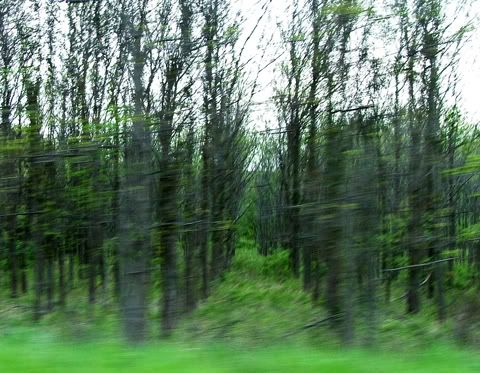 Years ago landscapers bought up plats of land and planted acres and acres of trees and shrubs. These operations dot the countryside and provide an interesting contrast to the endless corn and soybean fields. In fact, a large operation stands to the south and west of the old McGough Road barn.
In other areas closer to town the landscaping operations have moved on and the plantings were sold off to make way for new homes. While driving from meeting to meeting it occurred to me that one old plot had at last been totally surrounded by homes, chi-chi $4-a-cup coffee shops and fitness gyms.
The perfectly spaced allee of trees was coming up on the left. I grabbed the camera and caught a shot out the car window.....thus the dreamy motion quality. The trees look so strange, quiet and orderly standing in the chaos of advancing civilization.