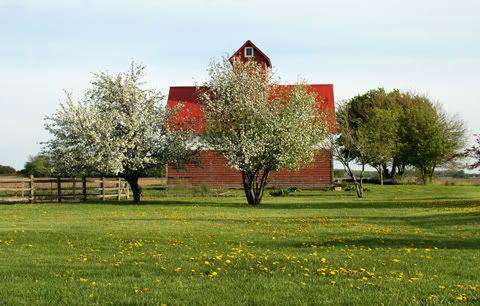 A book on written about the old south presented the interesting thought that the only thing holding some of the old structures together was a coat of fresh paint. I've seen for myself the rapid deterioration of barns and outbuildings that have been stripped clean of that protective coat.
Perhaps the paint is just a visible sign of the behind the scenes maintenance and care that keeps a building vital.
This interesting corn crib is painted in a vibrant and interesting red and white pattern. It's very beautiful, but curiously it stands in a field by itself. There's no farmhouse or barns nearby. The summer before last there was a vegetable garden growing alongside and obviously it's cared for. The blossoming trees create a visual game of hide and seek.