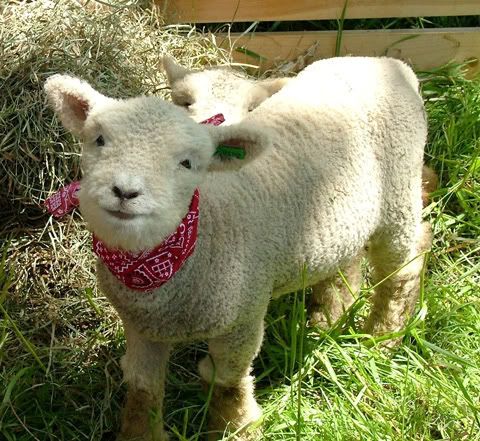 If you're anywhere within driving distance of northern Illinois, I encourage you to make the drive to La Fox on Sunday when
Garfield Farm Museum
hosts the annual Rare Breeds Show.
Pictured above is a Baby Doll Southdown Sheep, one of my personal favorites, and they'll be returning this year! There will also be the awesome English shire draft horse, oxen in yoke, Berkshire hogs, the rare Java chickens, heritage turkeys, demonstrations on llamas and alpacas, sheep shearing and maybe some dog sheep herding. Tours of the 1846 inn will be conducted, food will be available provided by Inglenook Pantry. Exhibitors plan to have lots of items for saling including goat milk soap, raw wool, roving wool, natural skin care products, sheep and llama fleeces, and hatching eggs.
So won't you make the trip and join the Farmers Wife for a day of fun down on the farm? Look for me, I'll be the old lady with all the cameras 'round her neck. Gosh, I think I've got to create a "Farmers Wife" tee shirt, or a "Farmers Wife" press pass. Bring your camera, bring your kids, bring your notebooks ..... but most of all, bring your enthusiasm for all things country.
The farm is located 3 miles west of Randall Road (St. Charles/Geneva). Turn onto Garfield Road (north) to the farm. Parking is in the pasture just east of the farm.
Hours - 11 am - 4 pm.
$6 & $2 for 12 and under.
I hope to see you there!!