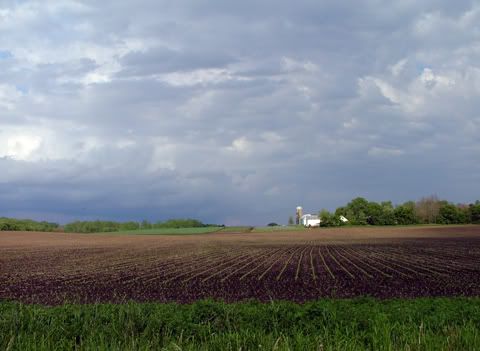 Weather is always an appropriate topic of conversation in a farming community. Livelihoods depend on the weather. Many a farm family woke up to the distinctive voice of farm reporter Orien Samuelson, intoning the price of pork bellies followed by a weather report.
Thankfully this year storm clouds continue to roll across the midwest, releasing the much needed rain onto the fields. No one wanted a repeat of last years drought when the cornstalks, stressed by the lack of rain, literally thrust their normally draping leaves upwards to the skies, pleading for rain. None came. Crops were turned into silage. Diminished yields hit the pocketbooks.
The white barn at Mongerson Farm glows as a pinpoint in the distance, across the burgeoning cornfield. The corn will busily shoot upwards, trying to live up to the old adage, "knee high by the Fourth of July."