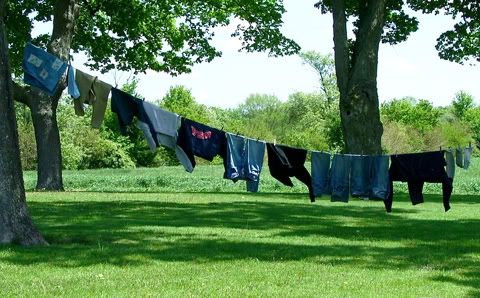 This weekend's fantastic weather is so welcome after a particularly grey winter and spring.
On my way into town to buy some groceries I noticed that Val had done her laundry and had it hanging out to dry.
Nature's clothes dryer. Nothing better. Especially clean sheets.
Proctor & Gamble's development team has got their work cut out for them. "Spring Fresh" in a bottle? I don't think so.
ANNOUNCING -
"The Back Porch"
is open. The Farmers Wife has unlatched the screen door. Come on in and read up on what's going on in Lily Lake, Illinois. It was created for those of you who might want to take in one of our local festivals, events or other interesting things to do. I'm going to do some book reviews (hyper-local authors), comment on local issues and link you to interesting sites and more.
Let me know what you think about the Back Porch slogan, "We're More Than Corn".