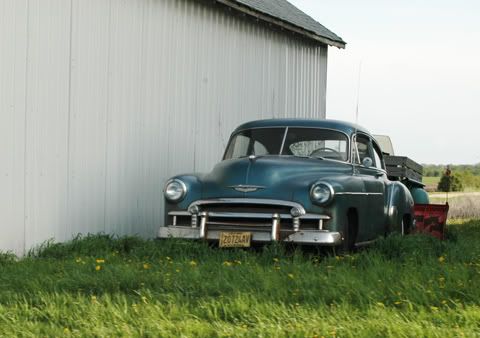 Those readers of a "certain age" will be able to recite the next few lines of this slogan, and probably be able to sing the tune also.
This car appeared parked in a nearby barnyard and I stopped dead in my tracks when I saw it. This vintage car (my guess is a 1952) bought back tons of memories. Back in the 1950's vacations meant long road trips to the Florida panhandle to visit relatives. That was three days in a Chevy sedan like this (later a station wagon), 4 kids and two adults...no air conditioning or back-of-the-seat DVD players. Just the games invented for long car trips. The roads were two-lane all the way, no such thing as an interstate back then. One year I decided to count the tar lines all the way from Chicago to Westville. I gave up that challenge somewhere in northern Indiana after developing a migraine that lastest four days!
Everyone went on vacation by car back then. The first person I ever knew that traveled in an airplane was my uncle, who flew out to California to serve in the Navy.
For the younger set - one of the most successful ad campaigns of the 20th century went something like this .....
See the U.S.A.
in your Chevrolet
America is asking you to call.
50 points to the first "farmer's-wifer" who can remember who sang it.