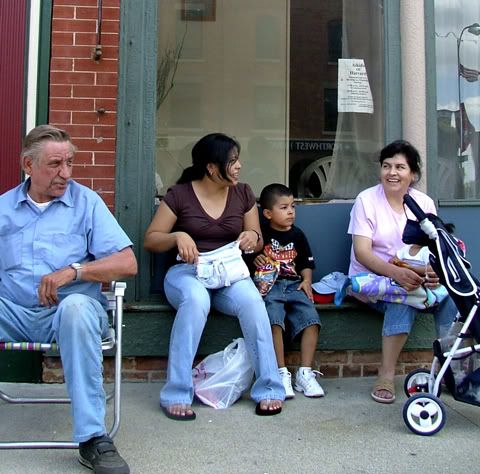 The good thing about weekend festivals is that I can amass a number of images that allows me to take a breather from the daily hunt of finding an image to post.
At times, like a tragic figure in an O.E. Rolvaag novel, I fear succumbing to madness if I post yet another image of corn seedlings or lonely vistas. There's a need for images of people, and large numbers of people are not an everyday occurrence in the hinterlands.
This photo, taken at Harvard Milk Days summed up the feeling of the day - old and new, traditional farming community makes way for some new faces, new economics and just simply new ways of doing things.
So here are some human beings living in small town America. Could be your town, could be my town, but in this case Harvard, Illinois.
NOTE: If you're interested in reading an expanded version of my thoughts on change in small town America, visit The Back Porch.
If you're interested in viewing the entire photo set from the parade, visit the Flickr set.