I'll leave you with three for the road -
We're leaving for a few days to take a field trip to the Abraham Lincoln Museum and Presidential Library in Springfield, Illinois.
Here are three photos from todays shoot at Peck Farm Lake. From a distance it appears that Peck Lake is being slowly consumed by a bright green ring that inches day by day farther from the shoreline.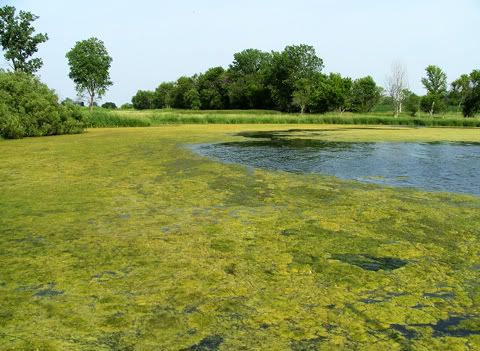 Not being versed in pond biology I cannot identify the culprit. Perhaps it's a form of algae bloom that's all over the TV news. It seems that algae bloom is a problem in the Great Lakes this summer.
Having tripped on a rock and taken a dive in the upper gravel pathway, I gingerly walked out onto the small floating pier to look around. This feather had fallen into the "goop" and I had no intention of doing likewise.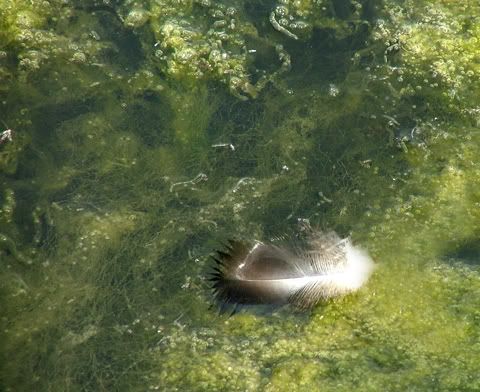 Luckily no one was around to see my less-than-graceful plummet into the gravel. The half a foot long scrape on my arm proves that I will do anything to get the shot. It also leaves me wondering how I ever rode a motorcycle without wearing leathers. Falling while traveling at slightly over 0 miles per hour, I've managed a very nasty scrape.
Back up the pathway to the car I was harassed at intervals by Orioles, loud and persistent birds. Both side of the path were lined with milkweeds. Despite their tag as a weed, they produce beautiful blossoms. Don't touch - they're extremely sticky!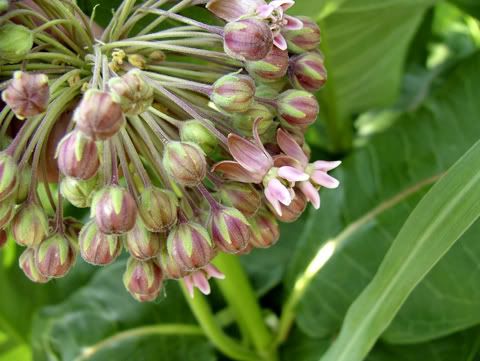 Have a beautiful weekend.