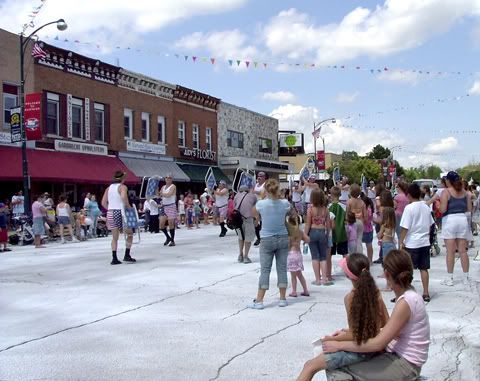 It's parade day in small town America. Electricity fills the air from early morning on. The street was whitewashed the night before, as is tradition, for the Milk Days parade in Harvard, Illinois.
There are all the elements of a good parade, bands play, marchers march, pipers pipe, sirens wail and a float drifts by carrying the 2006 Milk Days Queen. The most important element of all is the crowd without whose enthusiasm all this hoopla would be meaningless.
A rustle of excitement charges down the street in our direction. People jump to their feet and otherwise well behaved parade goers spill out on the white pavement to get a better look at the cause of the commotion.
The amazing marching Lawn Chair Dads are approaching! Northern Illinois businessman Kent Welch and his team perform their routine for the crowd. Lawn chairs whirl and twirl and in a final flourish the dads all sit at parade rest. Proving what we all know, dads work hard and rest equally hard.