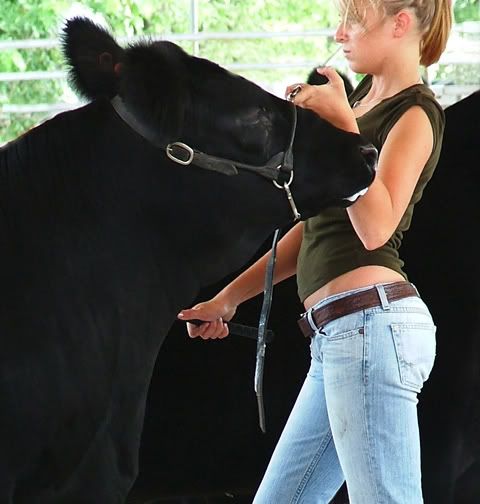 The Kane County fair continues through this weekend, ending tomorrow. The fair exibits open at 7 a.m., but I slept in a bit, arriving at 7:30. It was good to walk around early, before the midway came to life.
Steer judging started just after the vegetables were judged, about 9 a.m. The barns were a flurry of activity as each steer was spray and combed and fluffed and "detailed" for the judging ring. It was a busy, busy place.
This is my entry for this weeks Photo Friday challenge - "Attractive". There's probably nothing more attractive than a woman that can handle a 1,600 lb. steer. Attitude - yes! I have reasonable expectations that my bandwidth will be gobbled up like a billy goat with this entry, and perhaps those ChicagoPhotoblogger guys will realize the value of a trip out to the country for a photoshoot.